foldAI
Artificial sensing and intelligence for increased understanding and management of natural ecosystems.
foldAI
Artificial sensing and intelligence for increased understanding and management of natural ecosystems.
foldAI
Artificial sensing and intelligence for increased understanding and management of natural ecosystems.
foldAI
Artificial sensing and intelligence for increased understanding and management of natural ecosystems.
foldAI
Artificial sensing and intelligence for increased understanding and management of natural ecosystems.
foldAI
Artificial sensing and intelligence for increased understanding and management of natural ecosystems.
foldAI
Artificial sensing and intelligence for increased understanding and management of natural ecosystems.
foldAI
Artificial sensing and intelligence for increased understanding and management of natural ecosystems.
foldAI
Artificial sensing and intelligence for increased understanding and management of natural ecosystems.
foldAI
foldAI combines IoT and Artificial Intelligence (AI) technologies in local multidimensional sensing to enable deep understanding and management of conditions in natural ecosystems. The company founders believe in a world of a dynamic, circular economy embedded in a tight ecological balance that embraces, and builds on, biological and cultural complexity. To pursue this belief, they leverage modern emerging technologies.
foldAI was founded in 2019 in Munich, Germany, and the company team consists of seven dedicated employees with a broad variety of competencies, experience and backgrounds. At present, the solution developed by foldAI is deployed and the instalments cover several countries in Europe. The company caters the needs of both hands-on forest managers, forest engineers as well as scientists.
The end-to-end solution developed by foldAI is via sensors able to screen the health status of forests' biodiversity, and, via a decision support software, to deploy immediate mitigating actions. By harnessing state-of-art machine learning algorithms on real-time ecosystem data, the solution not only detects forest threats as they happen but even predicts their arising and forecasts their unfolding. The solution is called Aja, named after the goddess of forests of the Yoruba people.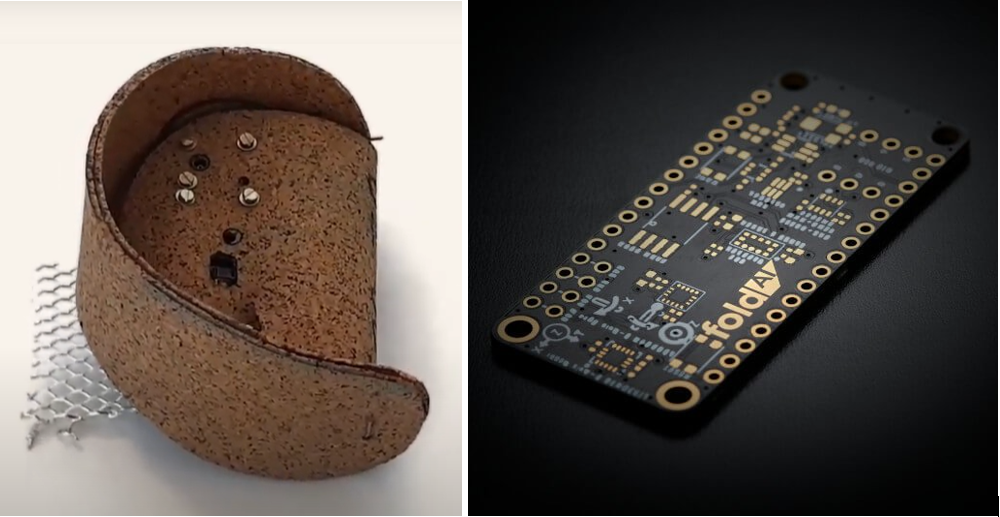 Illustration 1: The sensor devices use local intelligent computing in the form of embedded AI to monitor and communicate the information needed to sustain diverse, healthy and resilient forests.
IoT incentive
The incentive of foldAI to develop their IoT solution derives from the global concern of climate change and its damaging impact on the biodiversity and natural ecosystems of our planet. foldAI strives to contribute positively to the agenda by making forest management data-driven and agile to mitigate the climate challenges.
"There is so much damage being done in the forestry sector… I mean, if you look at climate change, we cannot continue to do this anymore – it should not happen! We should bring in new paradigms, new ways of working, new ways of dealing with ecosystems."

Friedrich Förstner, Chief Operations Officer at foldAI
Climate change is pushing forests off their natural equilibrium, and humanity is fundamentally unprepared to deal with the rapidly increasing challenges. Forest managers are overwhelmed by the forests' ever-accelerating decline, as they do not have the tools or resources needed to react to these challenges.
Prior to the foundation of foldAI, the founding team was occupied in the consumer electronics field. Although intrigued by working with the powerful combination of emerging technologies, such as AI and IoT, and witnessing how it is dramatically shifting the landscape of many business fields, the founding team lacked a sense of purpose in this occupation. Observing the ever more apparent and accelerating consequences of climate change, an idea started to transpire in 2017. Recognising that forests are economically undervalued compared to the actual value they bring to civilization, the founding team of foldAI had found their purpose. Field explorations revealed that this undervaluation is due to a chronic lack of time and resources preventing them from performing their vital functions effectively. Many frustrated foresters are even forced to plan and execute in non-sustainable manners, against what they know is optimal for the forests. Realising this gap led foldAI to consider the potential of using the skills they had matured working with consumer electronics to empower forest managers in protecting and extending our forests. Being experts at using AI in very small connected devices, where processing power is very limited and battery life is paramount, the team decided to apply this expertise to bring highly technological tools to foresters, and with the official company foundation in 2019, foldAI started building affordable, low consumption, sensor-rich networks of nodes that can be deployed in forests for years of operation.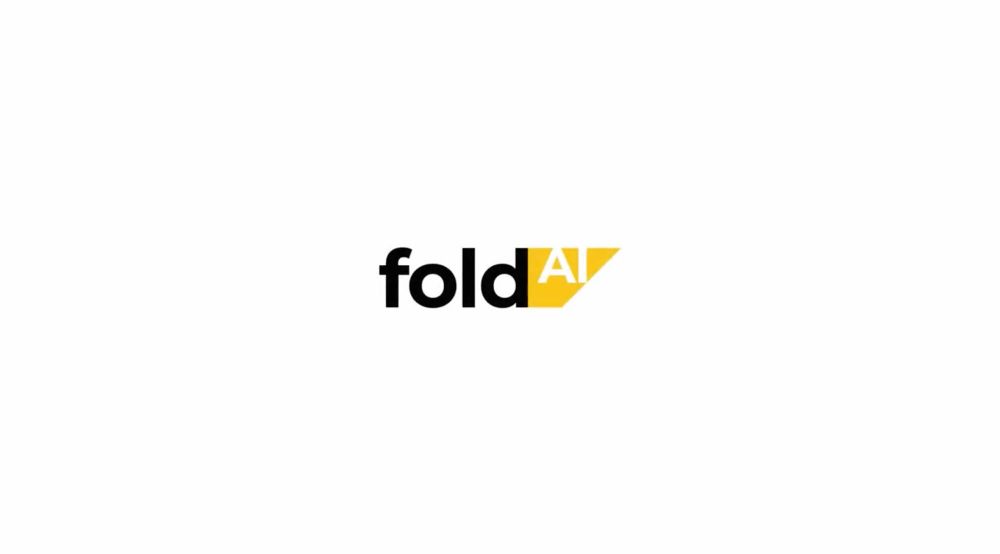 Video: foldAI brings IoT, AI and Data Science to natural ecosystems for forestry, biodiversity and climate change remediation.
The IoT solution
The solution offered by foldAI is a monitoring solution for increasing ecosystem understanding and insight. The physical solution consists of a network of decentralised sensing nodes that are installed at various strategic locations throughout a forest. Each sensor node is a physical device that is typically mounted to a tree from where it is able to monitor microclimate and soil conditions. Each sensor node detects its local environment through a multitude of sensor modalities. To enable this extraction of precise and real-time data, and to minimise the communication infrastructure, the sensing nodes use AI-powered edge computing.
The network of sensors transmits the findings to a central server where complex machine learning algorithms compose the many parameters and recognise events of interest. The data is stored either locally on the device or in the cloud where the transfer from device to cloud relies on power provided by solar panels. foldAI's platform processes the data collected by the sensors, integrates it with external information sources to provide measures of local forest health and generates the aggregate information needed to understand the dynamics of the forest at a large scale.

Illustration 2: Enabling technologies for foldAI's solution.
Supported by FoldAI's decision support software, the platform visualises the real-time ecosystem information via a dedicated browser interface. This browser interface informs forest managers through dashboards and reports about emerging issues in the forest and their mitigation possibilities, empowering them to make the right decisions at the right time.
"That is where IoT comes into place. It allows us to build novel paradigms of data acquisition and analysis."

Friedrich Förstner, Chief Operations Officer at FoldAI
Among a range of features, FoldAI's decision support software facilitates data communication via the platform that includes:
Environmental impact assessment: Greater information quality enables greater accuracy in the evaluation of the environmental consequences of a strategy or policy.
Biodiversity quantification: Biodiversity is a powerful indicator for the success of sustainability strategies, and by quantifying biodiversity and its change over time, the platform enriches the forester's foundation for decision making.
Risk assessment: Increasing ecosystem observability and providing alerts when a threat is identified help foresters manage risks in the ecosystem assets.
Ecosystem health tracking: Climate change is an existential threat to many ecosystems, but by tracking their health, the platform empowers foresters to act quickly and effectively to protect and strengthen them.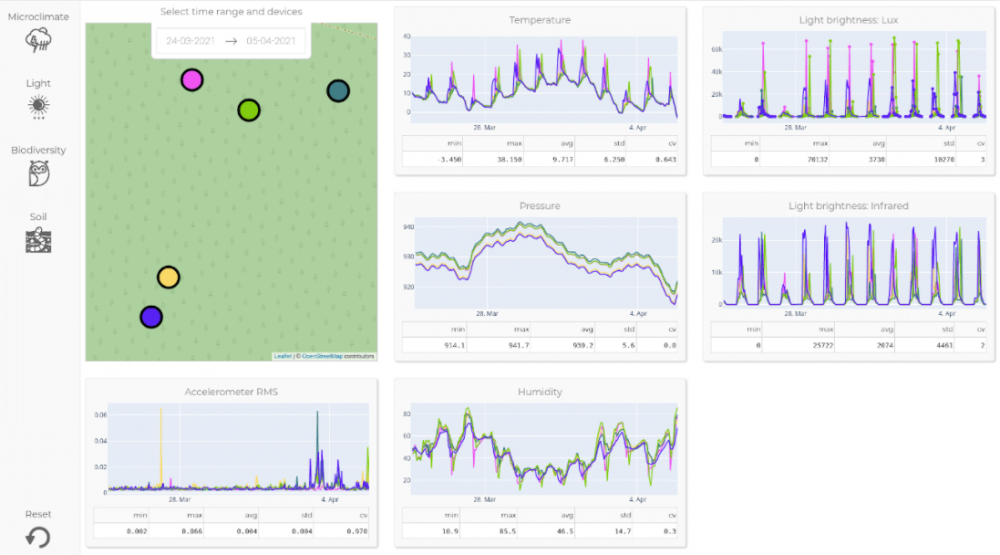 Illustration 3: Precise, real time ecosystem information is reported in the intuitive web application, designed to drive effective decision making.
The solution relies on an energy harvesting and optimized power supply system in order to bypass the common lack of energy infrastructure in natural ecosystems. This system enables the sensor-rich networks of nodes to be deployed in forests for years of operation. Also the use of edge computing and locally embedded AI are essential in optimising the power consumption as well as the sensing and communication capabilities of the solution.
Aja is offered as a personalised solution adapted to the needs of individual users. Based on a standardised package of choice, foldAI customises the decision support software and platform based on individual contracts. The company further strives to make the solution open source at some point in the future.
"There is research, but there are not enough field solutions for understanding how do we impact the ecosystem and how do we restore it? So this is a solution that is supposed to be very democratic that anyone can use."

Alicia Charennat, Chief Executive Officer at foldAI
The development journey
An inspirational backbone for the development of foldAI's solution was found in the increasing deployment of intelligence in cities. Why not transfer this to natural ecosystems? The founding team started the development process by basically brainstorming all conditions of significance in ecosystems preservation. Reading through scientific papers, they were able to identify the relevant parameters for understanding and monitoring the health conditions of forest biodiversity.
The next step in the development process was then to ascertain which of the identified parameters can actually be collected by the current sensors available on the market. A predefined restraint set by the founding team was that the solution had to rely on mass-producible technology components to keep down the costs and in order to build an affordable solution. Therefore, a multitude of sensors was benchmarked, and those providing the best trade-off between data accuracy, information quality and low price were selected.
"We did not want to do hardware! We were more interested in the data and what we could do with the analytics. But in the end, we realised that what we looked for is not available on the market, so we needed to build it."

Alicia Charennat, Chief Executive Officer at foldAI
Although hopeful to leverage hardware solutions that already exist, foldAI had to realise that there are in fact no robust, low-energy multimodal sensors available for monitoring the relevant parameters of natural ecosystems.
Hence, with the components set and the experience from working with consumer electronics, foldAI started building the first prototypes and deploying them in forests. However, although foldAI was confident about the premise of the idea and the technology of the solution, they were well aware that their hands-on experience with and knowledge of forestry was close to non-existing. Therefore, in parallel with deploying the prototypes, they proactively started talking to foresters and went to the forests in order to detect and redeem issues and questions regarding usability, availability, functionalities and power consumption that may arise. Although foldAI's solution is commercialised, they still put great effort into proactively collecting this feedback from the users. They impute significant value to this interaction, considering the input definitive for continuous refinement of the capabilities of the solution.
"We still have to make sure that we do not make wrong assumptions."

Alicia Charennat, Chief Executive Officer at foldAI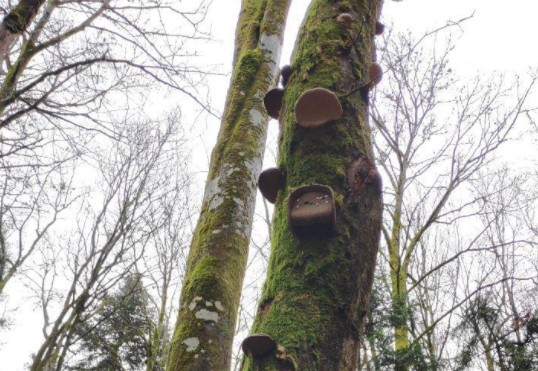 Illustration 4: By leveraging the latest advancements in IoT and Edge computing, foldAI use low-cost hardware to deliver real-time precise ecosystem data at scale.
Outcome of the IoT solution
The development of foldAI's solution is a valued contribution to the global ambition of assessing climate challenges. Leveraging IoT, the solution supports optimal management of natural ecosystems by providing a basic understanding of its health parameters, as well as knowledge and tools for mitigating and value-adding actions.
"So the question is: how do we manage ecosystems in a way that is not harmful to them? And the best way we found is that we have to observe the ecosystem as it works – or as it would work if we did not manage it."

Alicia Charennat, Chief Executive Officer at FoldAI
Aja makes it possible to observe forest biodiversity in a non-intrusive way. This is generally due to the capabilities leveraged from using IoT technology in the solution, which solves several issues that are often present when deploying technology solutions in natural ecosystems. This generates a range of beneficial outcomes that are part of the value proposition offered:
Decent bandwidth: an issue that is often present when deploying technology in nature due to limited access to communication infrastructure. Decent bandwidth is essential for the ability of the solution to transmit great amounts of data over an internet connection.
Low-power functioning: the need for constantly collecting data demands a constant supply of power. IoT technology enables the solution to do this with low power consumption, which is significant both for the economic and environmental sustainability of the solution.
Autonomous functioning: a functionality that eliminates the necessity for FoldAI and users of the solution to physically go to the forests to harvest the collected data.
Local processing: an essentiality in making sure that the solution does not make more harm than value to the natural ecosystems. Processing on the edge of the network reduces the undesirable effects of using technology in nature (i.e. energy use and CO2 emission).
"So in the end it is wrong to manage natural ecosystems. But we are too many people that rely on these natural assets. …In order to make it the least harmful, we have to understand how it works."

Alicia Charennat, Chief Executive Officer at foldAI
Hence, although foldAI's solution is a contrived addition to nature, it improves forest health, resilience and bioeconomical performance by introducing lean processes to a broad ecosystem management community. It helps reduce greenhouse emissions by scaling high-resolution forest management through a fully automated and affordable solution.
These positive outcomes are reflected in the income of foldAI, which rely on a revenue model that spans a variety of mechanisms, from subscription services to individualised contracts and monetisation of data enrichment. The company acquires customers and users through word of mouth, and they are very selective in the process, both because they have high expectations of the partnerships into which they enter, and because the team is still limited in size. At the moment foldAI's solution is demanded to an extent that necessitates the company to decline and delay contracts.

Illustration 5: FoldAI is aiming for maximum impact and works closely with forest managers, forest owners, researchers and public administration.
Users of foldAI's solution are characterised by two distinctive segments. Aja was intentionally developed for foresters to offer the information needed for them to address biodiversity issues in the forests they manage. However, when commercialising the solution, foldAI learned that ecosystem scientists are interested in using the solution for research as well. Although there is a split in the value proposition derived by these two segments, their use of the solution creates a reinforcing value effect. The increased usage generates amplified knowledge, and due to this effect, foldAI is rather open in defining their users.
"Forests research and forest fieldwork are really two worlds that do not meet.
We are in the middle of this."

Alicia Charennat, Chief Executive Officer at foldAI
Hence, the main outcome of deploying the solution for the two user segments include:
Foresters and forest engineers: Although foresters have basic knowledge and intuition on how to foster ecosystems most optimally, they do not have any factual insights on which to base their decision making. Nor do they have the time or the resources to collect the data needed for this. With the data made available by foldAI's solution, foresters are offered a solid foundation of evidence for how they manage the forest best. This provides an incitement to discuss and break the status quo of current and obsolete policies set out by authorities and enables the foresters to measure the effects of their initiatives.
"Some of the foresters, the first time we brought the solution, they had tears in their eyes! They were like, wow does this exist really? They called us Star Wars because it was science fiction to them."

Alicia Charennat, Chief Executive Officer at foldAI
Scientists: Although scientists tend to be proactive in their gathering of data, they do rely on devices that allow them to collect the most accurate data in the most optimal way. Aja is a network of devices that enables research on the impact of climate change, the development in natural ecosystems, the impact of various parameters on biodiversity etc. While scientists tend to fully understand and utilise the capabilities of the solution, they support foldAI in verifying the solution as well. The data which is made available opens up their horizon to do new experiments that go wider and broader, stimulating them to understand the parameters in more detail and to analyse them in more depth. Essentially, this will make humanity more educated on the development of our planet, and how our actions affect it.
In the end, three major beneficial outcomes are generated by the solution, providing value for the users as well as Mother Earth:
Seeing the unseen: the solution enables the users to gain clear insight into the ecosystem with comprehensive, local and precise sensing, providing a rich understanding of the forest ecosystems.
Saving time and money: the solution has reinvented ecosystem monitoring to enable precise sensing in a low-cost, low-power and low-maintenance solution.
Data-driven decision-making: the solution extracts the most relevant insights and trends from the environment to support foresters with clear and actionable information. The intuitive web application is designed to drive effective decision making for the health of the forest.
"We need this real-time information because ecosystems are changing all the time based on new situations, and since there is climate change, it accelerates the change. We have to adapt to the ecosystems."

Alicia Charennat, Chief Executive Officer at foldAI
Best practice learnings
Since foldAI introduced the idea of IoT devices to monitor and support understanding of natural ecosystems, several technological iterations have passed and many valuable learnings have transpired.
Looking back, the company remembers a rough start to their journey on getting the market to understand and accept the value of their solution. Reflecting on the scenario of having to keep up that battle with the market, the team recognises that they would eventually have burned out.
"I think the only reason why we are still here is the passion, the innovation, the freedom. So those things are really important!"

Alicia Charennat, Chief Executive Officer at foldAI
Hence, an essential learning in the process of commercialising a novel IoT solution is to focus on fostering the heart of the company – the team. For foldAI this unfolds in an organisation that is characterised by a flat hierarchy and fluid roles, along with a culture of innovation, outside-the-box thinking and freedom to break boundaries.
foldAI considers a number of points to be vital for the success of Aja so far. Taking departure in the journey of development and commercialisation, these points are compiled into a list of recommendations below:
1. Find your own way and dare to be untraditional
"All we saw was the traditional way of building a company. Scaling, scaling, scaling, commercialising as fast as possible, doing MVP…We just realized it does not fit our company."

Alicia Charennat, Chief Executive Officer at foldAI
foldAI decided that purpose should at all times guide how the company is built. Entering the market, foldAI saw great untapped potential but knew as well that it was a niche market for the time being. The majority of the technological innovation made in the forestry domain has been dedicated to machinery for forestation whereas the purpose of foldAI's solution oppositely is preservation. Hence, the company is built rather untraditionally by leapfrogging and continues to grow organically.
2. Find and retain trusted partners
Forestry is in dire need of systemic change, and that implies a systemic approach with the coming together of many partners – the same is true for the solutions needed to address this change.
"Find the good manufacturers. Find somebody you really trust because that is your wingman throughout the journey."

Friedrich Förstner, Chief Operations Officer at foldAI
In IoT, the device part of the solution is crucial. Therefore, foldAI recommends innovators in the field to not only seek alliances with competent partners but to continuously nurture the liaisons that are established.
3. Rapid prototyping and testing
foldAI considers the hardware to be the biggest risk in IoT development. Rather than pursuing rapid scalability, the company recommends spending time understanding how one's solution fits into the world. To foldAI, this means leaving the office, going to the forest and feeling the soil now and then, and in general terms, test devices as fast as possible and as much as possible.
"Get out there, get the data, look at the data, understand the data. Understand that it is necessary to do rapid iterative prototyping."

Friedrich Förstner, Chief Operations Officer at foldAI
From experience, foldAI advises IoT innovators to fail a lot in the beginning of the development process because technological changes late in the process are, directly quoted, a pain in the ass. Although failure may be painful, it is part of the game, and it essentially brings vital learning.
4. Understand your purpose and impact
Great amounts of waste are generated from technology development, and from foldAI's perspective, this is a paradigm that cannot continue. So from the very beginning of a development process, IoT innovators should understand and carefully consider how their solution impacts the world. Aja has been independently certified by The Climate Impact Forecast for its significant carbon reduction impact.
Having this meaningful purpose incorporated into the business model has truly been a valuable asset for foldAI. Both internally, where it has changed how several team members think and view the world, and externally, where it causes partners to support the company extraordinarily just because they applaud the vision and how foldAI work to comply with it.
"It really has to make sense. We have this one planet, and we have already messed it up so much, so we need to really think now."

Friedrich Förstner, Chief Operations Officer at foldAI
Digital maturity of foldAI
Illustration 6: Digital Maturity Radar Chart: Assessment of foldAI by Alicia Charennat, CEO and Friedrich Förstner, COO.
foldAI assumes a high level of digital maturity with an overall score of 4.60. The score indicates that the digital capabilities of the company are vastly mature, and that they perform above average for the agriculture, horticulture and forestry sector.
The Digital Maturity Assessment Tool is copyrighted by Associate Professor and PhD Annabeth Aagaard, Director at the Interdisciplinary Centre for Digital Business Development, Aarhus University. To get the digital maturity of your company mapped out, click here.

Copyright notice: © 2020 – 2023 EU-IoT Consortium.
This material was produced as part of the EU-IoT project, grant ID 956671, and is funded by the Horizon 2020 Framework Programme under topic ID ICT-56-2020.
EU-IoT is the European IoT Hub. The EU-IoT project works towards growing a sustainable and comprehensive ecosystem for Next Generation Internet of Things.
Source of origin: Information to document this use case originates from a network collaboration w. IoT Next Club (IoT community associated with the NGIoT initiative); Case period: 2021-2022.