QiO Technologies
Artificial intelligence applications predict and prescribe actions to empower industrial efficiency and sustainability.
QiO Technologies
Artificial intelligence applications predict and prescribe actions to empower industrial efficiency and sustainability.
QiO Technologies
Artificial intelligence applications predict and prescribe actions to empower industrial efficiency and sustainability.
QiO Technologies
Artificial intelligence applications predict and prescribe actions to empower industrial efficiency and sustainability.
QiO Technologies
Artificial intelligence applications predict and prescribe actions to empower industrial efficiency and sustainability.
QiO Technologies
Artificial intelligence applications predict and prescribe actions to empower industrial efficiency and sustainability.
QiO Technologies
Artificial intelligence applications predict and prescribe actions to empower industrial efficiency and sustainability.
QiO Technologies
Artificial intelligence applications predict and prescribe actions to empower industrial efficiency and sustainability.
QiO Technologies
Artificial intelligence applications predict and prescribe actions to empower industrial efficiency and sustainability.
ID: 4711
December 22, 2022
QiO Technologies
QiO Technologies specialises in managing asset lifetime through a software solution with a suite of applied Artificial Intelligence (AI) applications. Operations of the company cover efficiency optimisation, monitoring of operations and service of assets – all to empower industrial companies on their journey to sustainability, and simultaneously optimise energy use, carbon emissions, production throughput and quality.
The company was founded in 2015 by industrial engineers, incentivised by the goal of accelerating progress towards a zero-carbon economy. This goal is pursued by QiO in a solution that empowers organisations to leverage the emerging world of Industry 4.0 and the significant increase in mobile edge computing. Based in Hampshire, the United Kingdom, the company has since its foundation grown internationally with offices around the world and employs 32 people at present.
QiO monitors and services operations and assets with prescriptive and predictive insights that support industrial companies to maintain optimal Overall Equipment Effectiveness (OEE) and extend asset life. The company does so by providing the solution 'Foresight Sustainability Suite', which covers a range of software modules and an ecosystem of AI-augmented analytics applications that predict and prescribe actions to unlock untapped productivity and efficiencies.
The 'Foresight Sustainability Suite' solution first and foremost serves the needs of companies in the manufacturing sector; however, QiO is also collaborating with clients in the industries of oil and gas, steel and glass, aerospace, automotive, healthcare, marine and data centres. By providing their solution, QiO strives to lay the foundation for an integrated, affordable and self-managed digital future.
Please note that the focus of the following use case is the manufacturing industry and the specific solution 'Foresight Sustainability Suite'.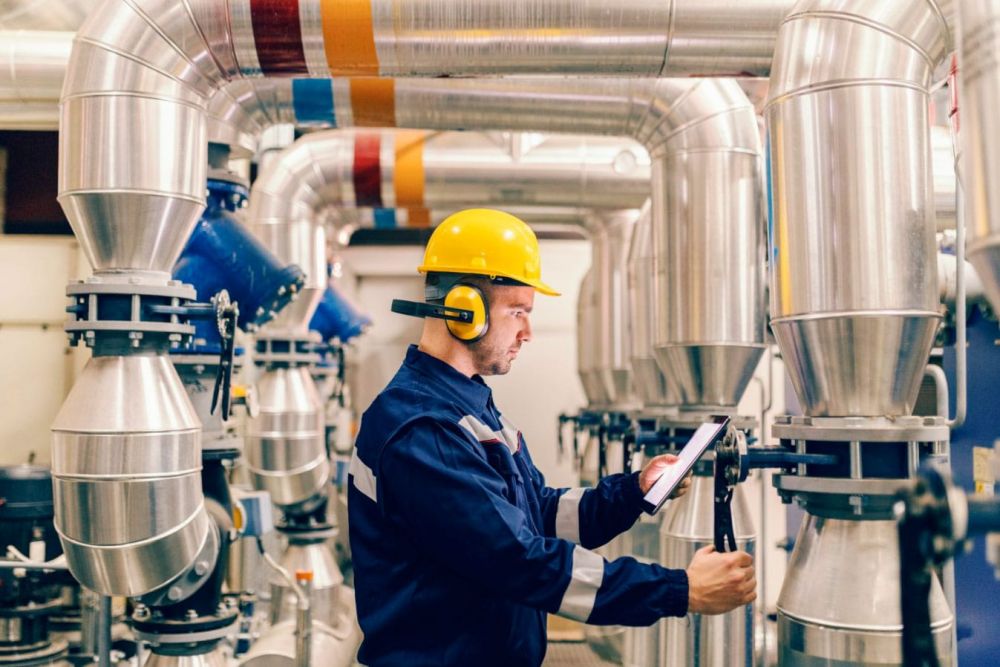 Illustration 1: QiO Technologies provides a flexible solution with a suite of AI applications for industrial efficiency and sustainability that can be rapidly deployed to multiple plants and asset types at speed
IoT incentive
The incentive of QiO to develop their IoT solution derives from the global ambition to reach carbon neutrality to stop and prevent climate change and ensure a future for our planet Earth.
"As a manufacturer, what steps can I take to achieve my net zero targets? This is the problem that we help customers solve."

Yassine Houari, Head of product at QiO Technologies
Across all industries, manufacturing is dominating global emissions, accounting for nearly 30%. Therefore, manufacturers today are manoeuvring a challenging environment with multi-faceted pressures to transform traditional practices and operations, for example:
Consumers that demand affordable, mass-produced yet eco-friendly products
Governments that set aggressive targets for carbon emissions reduction
Sustainable products that are growing 5 times faster than conventional counterparts
The rise of ESG investing that causes large funds to divest from their definition of global warming contributors
Moreover, research has revealed that the majority of industrial equipment is not operated efficiently, which hampers productivity, reduces asset lifetime and leaves significant carbon emissions. The International Energy Agency and Gartner estimate that 7% of global emissions are generated by inefficient industrial operations, and about $5,600 are wasted each minute by inefficient industrial equipment [1]. Fortunately, modern industrial companies realise that sustainability accompanies rather than impedes growth and that substantial value can be unlocked by investing in optimisation initiatives targeting operations and equipment efficiency. However, without insights and tools to address the track record of inefficiently operated assets, high material waste and significant carbon emissions, manufacturers are struggling to balance the seemingly conflicting objectives of cost and benefit in the much-needed transformation.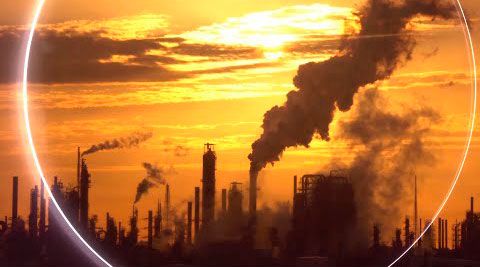 Video: QiO offers a suite of applied Artificial Intelligence (AI) solutions for optimising industrial asset performance for the future, for the planet, for net zero emissions and for a low-carbon economy.
Achieving sustainability involves a transition. For industrial companies to achieve sustainability, it is paramount to find the most cost-effective way to achieve that transition. Efficiency – doing more with less for longer – has been one of the best rates of return for any sustainability investment. This is because the efficiency of equipment and operations lowers energy consumption, decreases manufacturing time, reduces waste, and uses less material — all of which can provide significant cost savings for any organisation. Several decades of experience in the industrial sector made it apparent to the QiO founder-to-be that no good solutions were available on the market to support manufacturers in the transition. The accelerating climate change combined with the emissions of the industry, and the obvious lack of effort to address the problem, further led to the recognition of a severe market gap to be covered by providing that support, thereby enabling manufacturers to sustain optimal effectiveness in operations and equipment without the usual costly implementation, heavily-staffed deployment, unforeseen rework and high software license fees. From a prior position as a software architect, the QiO founder-to-be was knowledgeable about data analytics and the potential value for manufacturing companies to leverage by bringing together OT [2] and IT [3] datasets into pre-built machine learning algorithms.
An idea started to emerge: an idea of an IoT platform able to combine engineering data (e.g., temperature, pressure, flow rate) with financial cost data (e.g., energy cost, maintenance cost, waste cost), using AI for automated pattern recognition to zero in on the raw data and ultimately delivering prescriptive and predictive actionable insights for data-driven decision making. This idea, in combination with the notion of efficiency being a vital strategy for sustainability, led to the foundation of QiO in 2015.
"Ultimately, what drives our product development strategy is the direct sustainability benefit we can deliver to industrial companies."

Yassine Houari, Head of product at QiO Technologies
Hence, the founding principles of QiO are based on:
partnering with clients to drive progress towards sustainable development at pace
transferring digital software, AI expertise, processes and tools to client teams
ensuring customers retain sovereignty over their data, customers and intellectual property
Nurtured by a deep passion for tackling climate change through technology, the company started to develop their platform, and today they are continuously advancing it with complementary software modules and AI applications. All modules and applications offered by QiO are fully commercialized in either early-stage projects or full deployments.
"The most important part of commercialization is having initial traction in the form of a pilot or a proven concept."

Yassine Houari, Head of product at QiO Technologies
The commercial strategy unfolds in a circle of operational research and AI development that takes its starting point in a specific business problem. The data science team designs an algorithm that addresses the problem and tests it with the customer on a small scale. Once the value of the algorithm is proven, it is built into a fully-fledged application with connectivity and user interfaces, and then it is commercialized. To offer the best mix of functionality, flexibility, scaling and security standards available, QiO consequently builds their technology from the ground with an open-source philosophy and no legacy encumbrance on any cloud or software architecture.
The path towards Industry 4.0
IoT technology and platforms are key enablers of the 4th industrial revolution to create intelligent equipment and operations. The concept of Industry 4.0 emerged around a decade ago, and interest, engagement and solicitation of the concept have accelerated ever since. Competition in the IoT platform domain has intensified accordingly, and the number of companies active in the domain has more than tripled over the past five years.
Prior to the coming of Industry 4.0, manufacturers had limited information on correlations between energy efficiency and financial cost, as the only data they were able to access was from traditional IT systems (for example SAP software). This data is simulated and consequently imprecise, as it does not illustrate the concrete operation of the industrial equipment – only the control system of the equipment does. Control system data could be accessed only by reading it physically on the control terminal of the equipment.
Today, however, IoT technology has enabled connectivity to the control systems. Connectivity provides the ability to extract data from these OT systems on the concrete operations of the equipment and to combine it with the financial cost data from the IT system.
"IoT is effectively the data foundation of the entire solution. Without IoT connectivity and data collection, we would not be able to deliver those energy improvements or efficiency improvements."

Yassine Houari, Head of product at QiO Technologies
IoT technology is an efficient enabler for sustainable transitions in the manufacturing industry. Organisations have endorsed the industrial implementation of IoT, albeit with reservations raised by technological and human factors. These reservations have slowed the pace of adoption and remain the main barriers also for QiO's solution due to the same factors:
Technological factors – traditional manufacturers tend to believe that the data generated by their ageing equipment is not applicable for analysis and compatible with AI features. However, the actual challenge more often lies in the ability to extract the data – which is a simple matter of configuring connectivity and potentially adding some sensors and/or actuators.
Human factors – time has become a costly resource in present times, and manufacturers tend to believe that IoT implementation is a time-consuming process that requires a great amount of human resources to be allocated for deployment and training. However, this belief is flawed in view of the time and resources that can be saved by automating operations.
Despite reservations, the industry as a whole has made a lot of progress in adopting IoT technology over the past half-decade. The increase in competition has affected large cloud companies (e.g., Amazon Web Services and Microsoft Azure) to achieve economies of scale, while platform services have become more user-centric and prices on those services have dropped, which inevitably has made adoption more feasible.
QiO is providing a proof of concept for the cost efficiency and scalability of their solution by breaking down the value for customers to gain. This, combined with a unique value proposition of the solution, has proven effective for customer adoption. The unique value proposition exists in an algorithm developed by QiO that enables optimised equipment control by connecting directly to the equipment control system. This particular algorithm holds a first mover advantage, as it enables manufacturers to monitor operations data (flow rate, pressure, temperature etc.) in real time. Practice in the domain has been an after-event approach, meaning that competitors tend to analyse operations that have already happened and then identify actions to improve them.
"Our product provides recommendations that can be implemented directly by plant managers, and that delivery immediately visible improvements."

Yassine Houari, Head of product at QiO Technologies
Hence, the algorithm developed by QiO enables the platform to integrate back with the control system and elicit immediate improvable action for example to change the pump rotation speed, air pressure or furnace temperature. Furthermore, to mitigate the competitive intensity, QiO has chosen to effectively change the focus of the solution from being a general platform into a platform that solves the very specific business problem of energy efficiency.
The IoT solution
The solution offered by QiO is a platform that provides the information needed for manufacturers to optimise the efficiency and sustainability of assets and operations. The complete solution 'Foresight Sustainability Suite' consists of three software modules and a range of AI applications that work together to facilitate optimal OEE and extend the lifetime of equipment, helping manufacturers to maximise throughput and quality in production, reduce waste and minimise carbon emissions.
QiO installs a piece of their software on a local server inside the client company. The server deploys the software on the local network to facilitate connections that use the most typical IoT and industrial IoT communication protocols (MQTT, OPC-UA, ModBus, BLE, BACnet and more [4]). These protocols are necessary for the OT system to integrate with the IT system of the industrial company, in the following way:
The OT system represents the physical production network and equipment. Within this system, data is generated by 1) edge sensors that are mounted on the physical equipment to measure the quality of a production line, for example through temperature, flow rate or pressure, and 2) the control systems and PLCs [5] that are the integrated computers of the equipment, which basically constitute the brain of a specific pump, turbine or other equipment components, to measure the operations of the equipment.
The IT system represents the digital organisation network. This system collects, processes and distributes all information related to the organisational processes of the industrial company, for example, ERP systems, enterprise applications and data storage systems. The system contains data on all internal operations of the industrial company, including finances, resources and administration, and it is running partly on-premise and partly in the cloud.
Hence, IoT technology in combination with communication protocols enables the extraction of data from the physical operations and equipment and integrates it with the data from the IT system. The integrated data is then processed either locally on the edge (via simple algorithms that perform real-time optimisation) and/or transmitted to the cloud for more advanced processing on QiO's software platform (via complex algorithms that perform, for example, scenario simulation or a cost-benefit study). Further datasets from third-party applications can be integrated via APIs.

Illustration 2: Enabling technologies for QiO's Foresight Sustainability Suite solution.
The result of the data processing is made available in a web application that serves as user interface. The web application is accessed via a browser, which is hosted either in the cloud or in the local area network (i.e. internet connectivity is often inaccessible in secure manufacturing environments). In the browser, the user is presented with the Foresight Sustainability Suite portal that provides real-time insights and a suite of ready-to-deploy applications based on the data collected from the OT and IT systems, and the AI algorithms run on that data. The insights provided are based on a range of pre-built modules that can include, for example, a complete overview of all current operations – scores on performance, availability, reliability, capacity and serviceability for every piece of equipment in the plant – ranking of best and worst performers on asset productivity – simulation of input and output changes for scenario planning. Any insight is accompanied by decision-making support and/or recommendations for action, for example on optimal control setting for the equipment, suggested set points (e.g., x concentration, x porosity, x degrees, etc.) and maintenance procedures, and, finally, the savings that can be achieved financially and environmentally. The solution consists of these three software modules:
Foresight Optima: Optimises asset efficiency without compromising production and quality. Focuses on reducing energy consumption and carbon emission, minimising production cost and tracking ESG performance.
Foresight Maintenance: Pinpoints assets that need attention to maintain peak performance. Focuses on detecting anomalies, minimising downtime and preventing asset degradation.
Foresight Service: Orchestrates end-to-end repair workflows to increase asset reliability. Focuses on codifying approval policies, benchmarking processes and resources and extending asset life.
The AI applications of each module can be combined in various ways into a customised solution, depending on the individual needs of the client, the specific company and the industry in which they operate.
In addition to usage via the web application, the result of the data processing can furthermore be passed back to the OT system to allow more autonomous operation. Hence, in addition to the user portal, the solution facilitates also bidirectional communication between the platform and the industrial equipment – and thereby automation of the operations. Some level of automation is feasible in the form of alerts that are provided through the detection of operational anomalies. Detailed signals are monitored in real time, and if a sudden increase or decrease that could lead to failure is detected – for example if a pump is no longer operating at its designed capacity, it is starting to deteriorate and may break down or use more energy than needed – an alert on the equipment is elicited. Higher levels of automation are not yet feasible because most manufacturers today are not organised for this due to technical and/or human factors. Until then, QiO's Foresight Sustainability Suite remains a supportive solution for manufacturers.
"We act only as an extra layer of intelligence,
almost like a second brain, that is available to a plant engineer next to their control system."

Yassine Houari, Head of product at QiO Technologies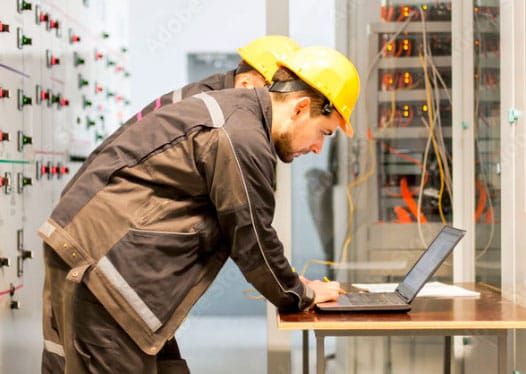 Illustration 3: QiO use proprietary industry-specific blueprints and automated machine learning algorithms for rapid deployment and eliminates the usual costly and heavily staffed implementations with high software license fees and unforeseen rework.
The traits that make QiO's solutions unique and distinctive from other industry platforms are:
Customisable templates: Pre-built modules, industry-specific blueprints and data models make the solution fully configurable and adaptable to the needs of individual clients.
Multi-platform: The design of the platform to be interoperable with existing legacy IT and OT systems makes the solution flexible to deploy on any cloud and IoT platform.
Automated analytics: Proprietary industrial AI algorithms facilitate automated generation and training of models for specific industries, plants and assets without the need for additional data scientists. Hence, AI model management is fully automated and scalable.
Orchestration with edge compatibility: Miniaturized versions of the prebuilt algorithms can run locally for low-latency and closed-loop control. Hence, information can be orchestrated to improve the accuracy of AI models to fully automate control throughout the asset life cycle.
Digital Twins: Real-time multi-asset analysis across billions of data points enables the identification of the most valuable actions across sustainability, maintenance and service opportunities. Proprietary algorithms measure and benchmark asset performance and continuously rank next best actions.
Furthermore, QiO is actively working to move data processing from cloud to edge in order to increase network latency within the industrial company. The majority of the algorithms deployed by the platform are complex and require ample computing power, which presently can be facilitated only by cloud processing. However, for full manufacturing automation and implementation of Industry 4.0 in the future, equipment and entire factories must be able to operate autonomously. This necessitates data processing and communication to happen locally. For this exact reason, QiO is exploring ways to further miniaturize their algorithms, which enables them to train them on the cloud but deploy the trained model locally.
"The importance of doing it locally is that clients want to have the ability in the future to control equipment automatically using AI."

Yassine Houari, Head of product at QiO Technologies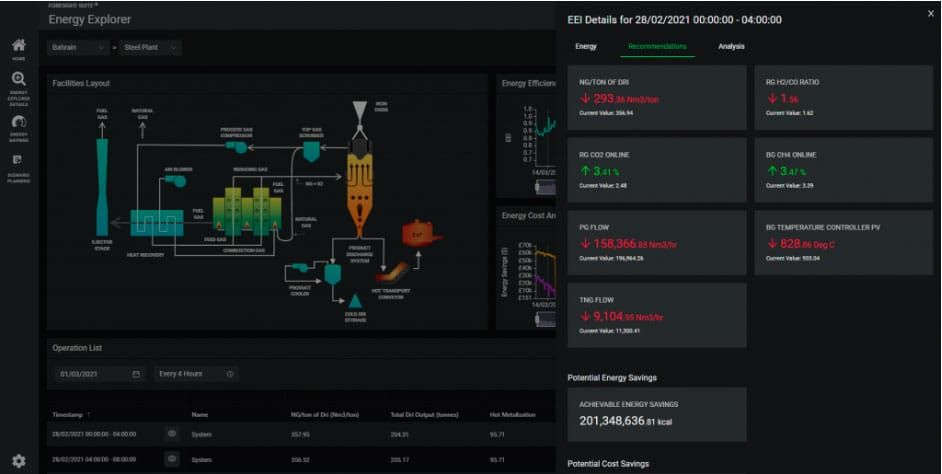 Illustration 4:The Production Optimisation application is part of the Foresight Optima software module that automatically identifies and implements operating regimes that reduce energy consumption, cost and carbon emissions in real time.
Outcome of the IoT solution
The development of QiO's solution is a direct contribution to the sustainable transition needed across industries to reduce and/or neutralise global emissions, diminish climatic damage and ensure a future for the planet and humans. QiO has made it their mission to help industries become more sustainable effectively. By offering the Foresight Sustainability Suite solution, the company practices that mission while they are progressing the adoption of IoT technology in the manufacturing industry, and while they are supporting organisations to harness data for better business performance and for achieving a zero carbon economy.
"The size of data being generated, second by second by these machines, is just too large for the human brain to process. And that is where big data, AI and machine learning can help to process that and allow layers."

Yassine Houari, Head of product at QiO Technologies
Hence, the solution helps clients to identify and address areas of productivity where IoT can drive new value levers and outcomes. QiO is a vendor that relentlessly works with their clients to achieve their goals, generating outcomes in the form of help to make step changes in asset efficiency and operational performance, resulting in carbon footprint reduction.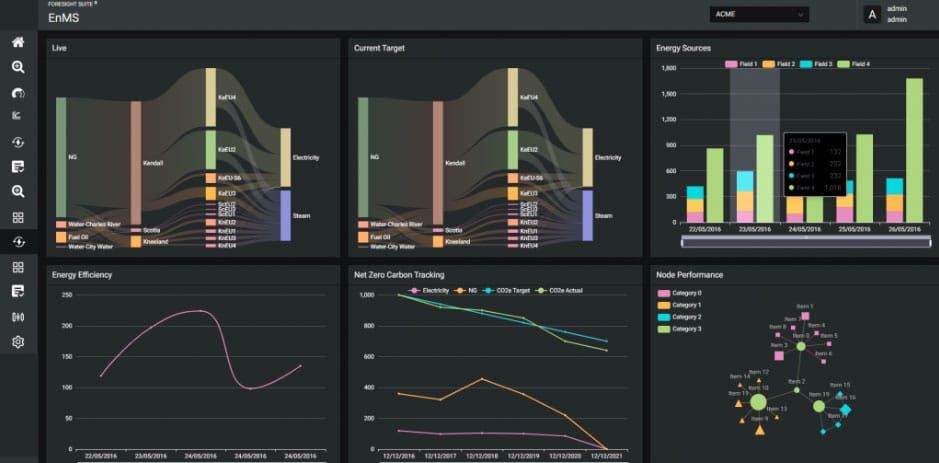 Illustration 5: The ESG Tracking application is part of the Foresight Optima software module that automatically tracks and reports progress on net zero emissions, sustainability goals, ESG and disclosure frameworks and ISO 50001 compliance.
Customers of the Foresight Sustainability Suite solution are industrial companies – the corporate entity – whereas the users of the solution are the personnel inside the companies – the human individuals. Both the corporate entity and the humans can leverage valuable outcomes from the solution.
Industrial companies directly benefit from the support facilitated by the solution's software modules and AI applications, enabling them to:
optimise asset efficiency without compromising production and quality
orchestrate end-to-end repair workflows to increase asset reliability
pinpoint assets that need attention to maintain peak performance
report on standard ESG frameworks such as the Global Reporting Initiative or the TCFD (Task Force on Climate-related Financial Disclosures)
These capabilities support the manufacturer to maintain optimal OEE that extends the lifetime of assets and improves operational integrity. The improved efficiency translates into improved sustainability performance by supporting the identification and implementation of control settings that optimise energy efficiency and reduce carbon emissions.
"Now a lot of customers are converting carbon emissions into a dollar value. Finally!"

Yassine Houari, Head of product at QiO Technologies
The improved sustainability performance finally translates into monetary value:
cost reduction due to energy savings of up to 20 %
cost reduction due to carbon emissions reduction up to 10 % yearly, further generating savings on carbon credits (the European Union's Emissions Trading System impose European manufacturers to buy carbon credits)
cost reduction on human resources due to increasingly predictive and/or automated maintenance and service processes
revenue growth due to enabled identification of the 'golden operating regimes' that preserve optimal energy efficiency to maximise production at a minimised cost.
Personnel inside the company directly benefit from the extra layer of (artificial) intelligence generated by the solution, providing insights, decision-support and recommendations for action. Towards the future, QiO envision their solution to support organisations in the transition to make industrial processes fully automated to run in a systematically optimized manner. Both for the benefit of the environment, for the bottom line of the industrial company and for the human users. The valuable outcomes to gain for the typical users include:
Production manager: access to real-time data, decision-support and recommendations. Combined overview of manufacturing operations, finances and sustainability performance.
Sustainability manager: accurate and real-time monitoring of sustainability performance. Visibility to track and document targets for net zero emissions.
Control engineer: automation of operations can liberate engineers by 1) taking over tasks in hazardous environments in which no human wants to work due to, for example, poor air quality, chemical emission, radiation, extreme temperatures, excessive noise or other factors that may pose health risks, and 2) reducing manual tasks that are tedious and repetitions, offering more intellectually stimulating working experiences that support better utilisation of technical talents and strategic focus.
"Our positioning in manufacturing is very much one of guidance. We work with the control engineers – we do not replace them. They are still the final decision makers, they just use extra intelligence from our algorithms to make operational decisions."

Yassine Houari, Head of product at QiO Technologies
By putting a vast effort into understanding the business and industry of the client and the needs of their customers, QiO operates like a business partner rather than a software development house exclusively. Through knowledge sharing and upskilling, QiO empowers the human individuals, and accordingly the internal resources of the client, enabling them to gain hands-on experience in the development process, as well as transparency throughout the process of building a robust and resilient solution.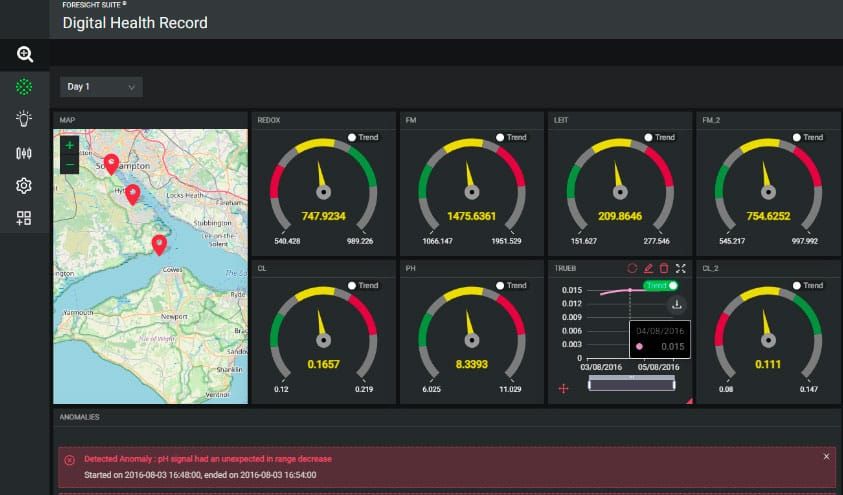 Illustration 6: QiO's Foresight Maintenance software module covers a Dynamic Health Record application that benchmark performance via a digital twin framework and connects it to an alert system that generates predictive and prescriptive insights.
Best practice learnings
Since QiO introduced the idea of managing asset lifetime through a software platform with a suite of applied AI applications, many technological iterations have passed and many valuable learning outcomes have transpired.
When the company was founded and the platform concept was still new to the market, QiO could acquire customers by offering a rather general platform that had the main purpose of connecting industrial data. However, concurrently with the progression in the market, industrial companies have started questioning the return on the money they spend on technology, platforms and cloud. This questioning has forced QiO to scrutinize, reflect and work hard to define very specific problems that their platform is helping to solve.
"For us, the main learning has been to focus more on the business problem and on the process of our customers rather than just the technology."

Yassine Houari, Head of product at QiO Technologies
Hence, an essential learning for QiO has been to redefine the appearance of their platform, making it appear not as a product, but as a solution. Although the platform still exists today, it is presented in terms of a Foresight Sustainability Suite solution with various modules for solving various problems. Therefore, using IoT to tap into a recognised customer problem, and letting the customers guide development, has, according to QiO, played a significant role in reaching the current state of achievement.
QiO considers a number of points to be vital for the success of their IoT solution. Taking departure in the Foresight Sustainability Suite and the present implementation of the solution in the manufacturing industry, these points are compiled into a list of recommendations below:
1. Target a niche
Trying to appeal to the entire market is practically impossible, and therefore choosing a specific niche is oftentimes more likely to generate a steady stream of revenue and to establish a loyal customer base. This is particularly true for competition-intensive markets, such as the IoT platform domain, as they are often commoditized by dominating players with economies of scale.
"Main advice to a newcomer entering the market is to choose a very specific niche and quantify the size of the market."

Yassine Houari, Head of product at QiO Technologies
QiO advises IoT innovators to target a niche that has specific needs and interests that are underserved by the market in general. Furthermore, studying the size of the market (i.e. potential total sales revenue, number of customers, sales volume, etc.) is critical to inform business viability and forecasting business success.
2. Quantify value
The ability to demonstrate the value potential of a technology or solution, as opposed to verbalising the immediate value proposition, is crucial for generating sales in the digital world. QiO could address clients by saying: "You are not using your data efficiently. Let us help you", but instead they demonstrate projected KPIs and quantify the value, for example by mapping out a potential $1,000,000 saving in energy cost, or 100,000 tons if converted into carbon.
"The key driver behind succeeding in this industry, or in IoT deployments generally, is to be able to estimate the quantified benefit up front."

Yassine Houari, Head of product at QiO Technologies
QiO express it as measuring success in a language that is universal. By tradition, cost has been – and still is – a universal language, but now sustainability measures are becoming increasingly common language too, as ESG frameworks are developing metrics for ESG compliance, risk management policies, work conditions, environmental impact, etc.
3. Build an ecosystem of prosperous partners and people
Industry 4.0 is a fast-moving sector, and to stay at the forefront, QiO advises IoT innovators to put much effort into building an ecosystem of sustainable partners that offers each other a win-win route to differentiation. QiO partners with IoT platform providers, system integrators, software vendors, management consultancies, industry-specific service providers and many more, who together constitute an ecosystem that focuses on how IoT and digital transformation, cloud infrastructure and AI analytics can create new business models and become a catalyst for value creation and disruptive business outcomes. An essential subset of every ecosystem is the human force behind each partner. According to QiO, the success of the company is achievable thanks to the ambitious and passionate team, guided by an experienced Advisory Board that ensures QiO is at the forefront of shaping the future of Industry 4.0.
Finally, the experiences of QiO have shaped one final point to be raised that cannot be left unsaid:
"Use IoT as an enabler for solving a problem, as opposed to using IoT just because it is new technology or just because data is available."

Yassine Houari, Head of product at QiO Technologies
Digital Maturity of QiO Technologies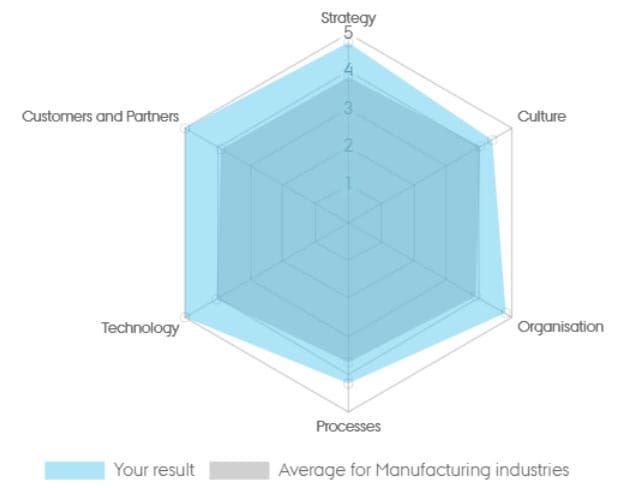 Illustration 7: Digital Maturity Radar Chart: Assessment of Veoneer by Yassine Houari, Head of Product.
QiO Technologies assumes a high level of digital maturity with an overall score of 4.70. The score indicates that the digital capabilities of the company are vastly mature, and that they perform above average for the manufacturing sector.
The Digital Maturity Assessment Tool is copyrighted by Associate Professor and PhD Annabeth Aagaard, Director at the Interdisciplinary Centre for Digital Business Development, Aarhus University. To get the digital maturity of your company mapped out, click here.
End notes
[1] Sources: IEA, Gartner and Rhodium Group: https://www.iea.org/reports/global-energy-review-co2-emissions-in-2021-2.
[2] OT (Operational Technology): systems that monitor events, processes and devices, and make adjustments in enterprise and industrial operations. Represents the traditional physical world composed of machines, electromechanical devices, and other industrial equipment.
[3] IT (Information Technology): systems that are used for data-centric computing. Represents recent digital world using servers, storage, networking and other devices used to run applications and process data.
[4] MQTT (MQ Telemetry Transport), OPC-UA (Open Platform Communications United Architecture), ModBus, BLE (Bluetooth Low Energy), BACnet (Building Automation and Control Networks).
[5] PLC (Programmable Logic Controller): industrial computer control system that continuously monitors the state of input devices to control the state of output devices.
Copyright notice: © 2020 – 2023 EU-IoT Consortium.
This material was produced as part of the EU-IoT project, grant ID 956671, and is funded by the Horizon 2020 Framework Programme under topic ID ICT-56-2020.
EU-IoT is the European IoT Hub. The EU-IoT project works towards growing a sustainable and comprehensive ecosystem for Next Generation Internet of Things.
Source of origin: Information to document this use case originates from a network collaboration w. AIOTI – Alliance for IoT and Edge Computing Innovation (IoT community founded by the EC); Case period: 2021-2022.